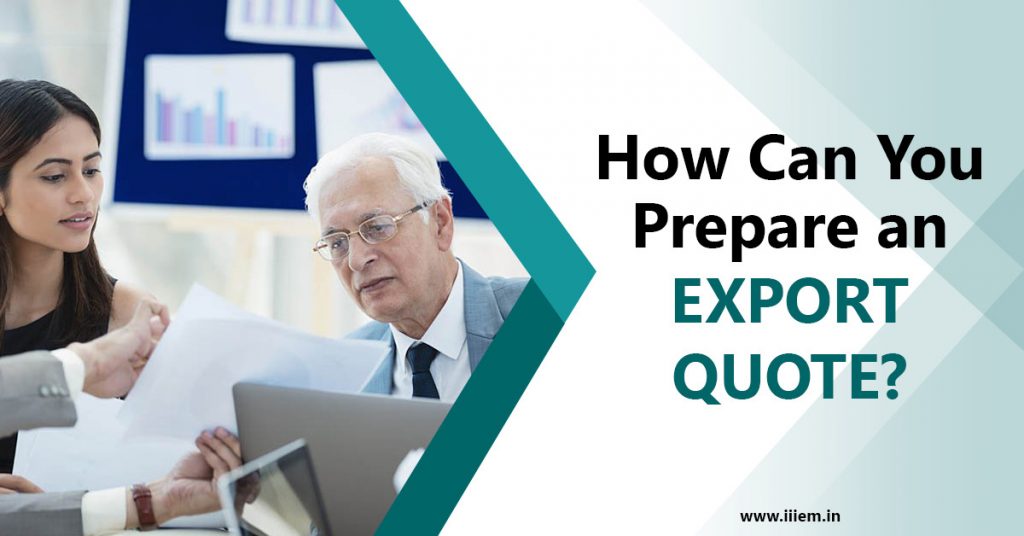 Generally, an export transaction would begin with buyer requesting for quotation form to the seller.
Quote serves as a promise in form of a formal statement by the seller that he would provide the product at a specified time and price. Seller would be presenting the quotation in proforma invoice form. The seller needs to understand that International market is buyer's market and thus the price quoted by an exporter should be reasonable as well as final. Government policies, competition, elasticity of demand play a very significant role in determining the price/ quote of the product. Quote is a primary document of price which may be negotiable.
Quote is a crucial document which will benefit the seller as well as the buyer and thus there should be a standard checklist. This checklist should have all the important details such as price, time of delivery, taxes, bank fees if any, transportation mode and price etc.
Below is the checklist for preparing an Export quote –
1. Details of Seller i.e. name, contact information, address, id proof, tax proof
2. Place and time of selling of products
3. Details of Buyer i.e. name, contact information, address, id proof, tax proof
4. Ship to- party's full details i.e name, contact information, address, id proof, tax proof
5. Detailed description of the product including –
a. Quality and Grade
b. Name by which the product is known locally and in the market of the buyer
c. Harmonized system number
d. Currency
e. Price per unit of the product
f. Country of origin
g. Number of Quantity
h. Symbols, numbers and marks under which the product is sold
6. The details of country in which shipment will be done
7. All kind of goods and services that would be provided by the buyer for the product of the merchandise
8. Some additional information such as,
a. Mode of payment
b. License required if any
c. Any certificates or statements that would be required by the buyer's country
d. Relevant laws
e. Expiration of the quotation date
f. Where title would be transferred from the seller to that of the buyer
Price is a significant variable as it is the major factor affecting the choice of the consumer. It is very important for a seller to quote the price properly and for this, he should keep following things in mind –
1. Range of products that are been offered.
2. Frequency of purchase
3. Credit offered.
4. Prompt acceptance as well as settlement of the claims.
5. Preference or prejudice for goods originating from that of a particular source.
6. After- sales service in products such as machine tools, consumer durables.
7. Prompt deliveries and continuity in supply.
8. Presumed relationship between price and quality
9. Product differentiation along with brand image
10. Specialty value goods and gift items
11. Unique value goods and gift items
12. Aggressive marketing and sales promotion