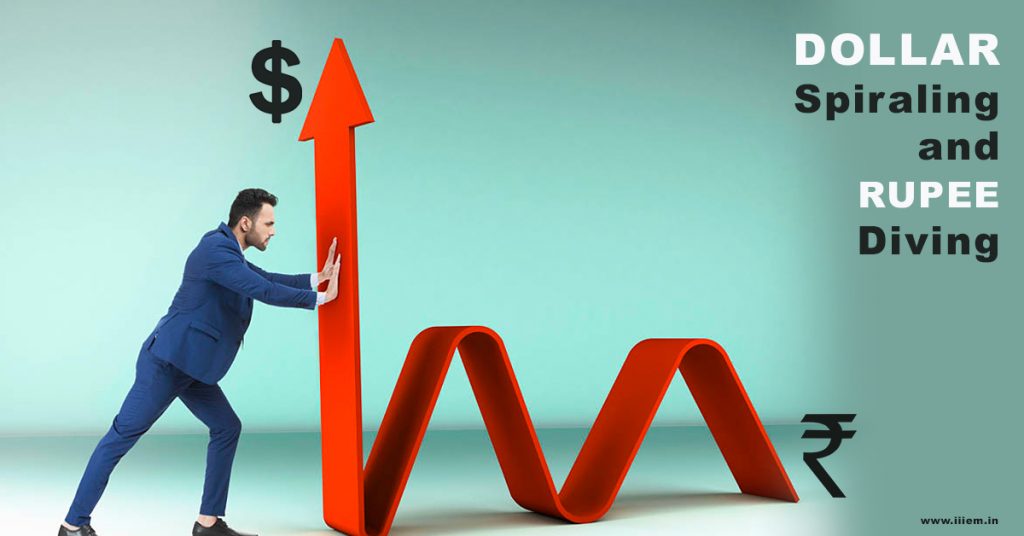 The trending message these days is with the US Dollar @ 73 Rs, Exporters are meeting at the Taj Hotel & the Imports at the Apollo Heart Institute!
Why is this so? Dollar surging, Indian Currency collapsing, not a good feeling!
Let us today understand these phenomena.
Crude is bought from the Saudi Countries in U.S. Dollars only. This is a treaty signed between all the Petroleum Countries. Against which USA is protecting their securities, heirs and countries.
USA can print dollars on any white paper, & voila is it becomes a US Dollar!  No other country has this right. We have to have an equivalent Gold to print the currencies. As the economists many a times put it that Dollar is a "fake" currency. Some call it "overrated", others despise it, but we all love it when in our hands, and swear by it too.
However the main reasons for the surging dollars and nosedive of rupee can be attributed to the following reasons:
Increase in the price of the crude oil
Beginning of trade war between the USA and China
Increasing Trade Deficit of India – more of Imports less of export
Out flow of Foreign Currency – However, foreign investment in Indian equities and bonds has slowed down, too.
Atmosphere of Political Uncertainty in India – ensuing Elections of 2019
Even though the Indian currency is not an anomaly, currently it is not performing well.  Meanwhile, other non-Asian emerging market currencies have put up an even poorer performance. Most significantly the Turkish lira, the Argentine peso and the South African rand have lost their value owing to a serious loss in confidence among investors.
Economists often like to argue that a depreciating currency is not exactly problematic as it encourages a country's exports. A weaker currency keeps the costs of domestic goods cheaper in the world markets and keeps overseas competition at bay. China is accused of deliberately keeping its currency undervalued to fuel its export-led growth in the past.
This is not the first time in History that the dollar has taken away the sheen & shine of Indian currency. Yes it is the first time in the NDA government which is making more news and noise in the Country that Indian Rupee has crossed a mark of 73.
The reasons of 1981 are far from the reasons of 2018. However one must note that the reasons are more serious in nature as the rupee has lost nearly 3% of its value since the start of 2018, and it is the second-biggest loser in the BRICS group: Brazil, Russia, India, China, and South Africa. The Russian ruble is the only currency that has lost more value than the rupee in 2018 so far.
The fall in Indian rupee can be attributed to higher crude oil prices, widening trade deficit, and higher capital outflows.
India's import bill is rising at a time when exports' contribution to the country's GDP has hit a 14-year low. That has increased the trade deficit, the amount by which a country's import value exceeds its net exports, by up to $156.8 billion for financial year 2018, compared to $105.72 billion in the previous year. India spends more money on importing crude oil than anything else. Nearly 80% of the country's fuel needs are met by imported crude oil.
Excess use of fuel, Cold drinks, cosmetics, house hold products, branded garments, watches, perfumes; liquor whose actual cost is very low, huge foreign exchange is paid to them by India in royalties, Purchases. India has nothing against MNCc but it's necessary to protect our own interest at this critical time. We request all Indians to use INDIAN products only for at least for the next two years. Buy products only manufactured by Indian Companies. Every Indian should become a leader for this awareness by self-motivation. We don't need to give-up your lifestyle. You just need to choose an alternate product.
What MNCs conveniently call as globalization of Indian Economy is actually re-colonization of India. Russia, S. Korea, Mexico etc. – the list is very long!! Let us learn from their experience and from our history. If you can't give up all imported items of daily use give up at least some items for the sake of our country! This is the minimum we can do. Avoid unnecessary fuel consumption, if public transport is available; use it as per your convenience. Do something, act on something, be a partner in Social responsibility, participate in nation building even in small measures, collectively it will have a great impact.
India must wake up to this call to learn the below listed lessons for ever :
India needs a steady Government
India needs to be self-reliant, more Exports than Imports
India must change its love for "all that is foreign" to "all that is Indian"
Indians must make "Make In India" successful
India must rise above petty, divisive, polarized actions and thoughts to that of One Nation Solidarity.
Sher Shah Suri must never ever have thought while introducing the Rupiya that it would have so much drama around it!