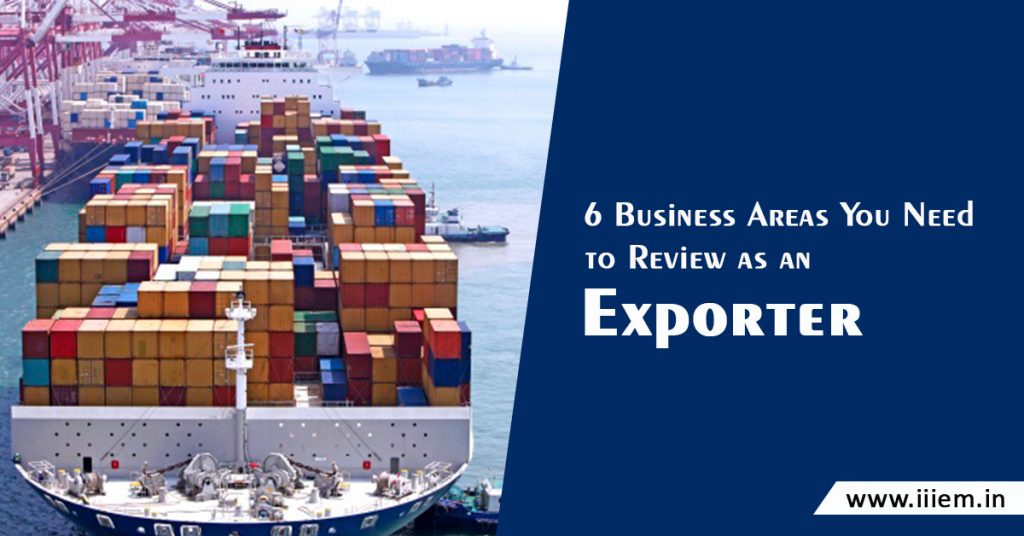 Quite often, businesses fail to conform their processes for global business—for, e.g., globalizing their websites, determining correct export prices, etc.—and they miss out on great opportunities. By focusing on below-mentioned business areas and optimizing them, exporters can grow proactive instead of reactive.
Which business areas need to be reviewed, and what type of optimizations should be performed?
Seven fundamental business domains need to be reviewed.
1. Support and Service for both Marketing and Sales
Exporters should openly and explicitly say they're excited about doing business globally. Make it clear that you want to work with international companies because many will overlook to work with you if they don't clearly know you're interested. Exporters should also have a strategy in place to check and address any interpretation issues that may surface.
2. Distribution and Sales Channels
Understand how to identify your target markets. Take an advanced approach to see why you should go to a particular area, including examining any risks: economic, payment, market potential, and climate. It's important for exporters to locate partners in these markets—here, commercial service offices can be of help.
Have a strategy for responding to international sales inquiries. What will be your subsequent steps when you get an email or call from a probable client?
Research about licensing and joint ventures. As you examine different international opportunities, probable partners will offer various business structures, like licensing and joint ventures. Before entering the global arena, plan which partnering structure you would like to go with.
3. Website Globalization
Companies of any size can improve their websites for carrying out exports, but an international business needs more than a plain website. Visit iiiEM's export advisor and learn import and export course or discuss the difficulties and issues you must address if you want to utilize the web to grow your export business.
4. Global Financing and Export Pricing
Some organizations are reluctant to financial methods other than Cash In Advance. This is an enormous competitive weakness just because they are not aware of other ways that empower them to practice more advanced financial methods for global transactions. Consequently, sales aren't as great as potentially it could be.
There are various resources and workshops designed for exporters to leverage the financial dealing of exporting.
Research about the insurance proposed by the Banks. This can give small businesses the confidence they need to penetrate new markets and expand their global competitiveness. Through this, exporters can also learn to manage cash flow by renting against their receivables effectively.
Export Pricing is the best exercise to use activity-based pricing to remove the local costs of your products when preparing for export. This way, the product cost and ultimate landing cost is correct. If you charge your products with domestic-only costs, the export price will increase and apparently be incorrect. This gives rise to many unwanted outcomes including non-competitiveness, reduced sales, and depreciated export profitability, which again cut down the chances of tax benefits of global sales.
Investigate more about tax incentive programs, or you can visit iiiEM to learn about favourable tax approach.
We'll guide you with leading finance tools to help you chase big opportunities. A proactive financial strategy particular to export business will produce great benefits. We'll also help you evaluate all of the tools accessible to your company to reduce your financial uncertainty, and empower you to be competitive in international markets.
5. Intellectual Property
You need to ensure your understanding of intellectual property (IP) protection and recognize how and where to use it if the need be. You can enroll in Export Import Management Program at iiiEM where you'll get to learn how exporters can build the right contacts and understand what they need to be informed of between distributor and agent agreements, as different nations have different obligations.
6. Foreign Logistics and Goods Packaging Concerns
To be competitive, you must ensure your understanding of logistics and packaging. For, e.g., if your customer has to get your goods by himself, you're not enough competition. Export Import Management Program can help you understand these matters and requirements under logistics: best-practices for labelling, packing, paperwork and much more. The Program also highlights the partners who can be of help.