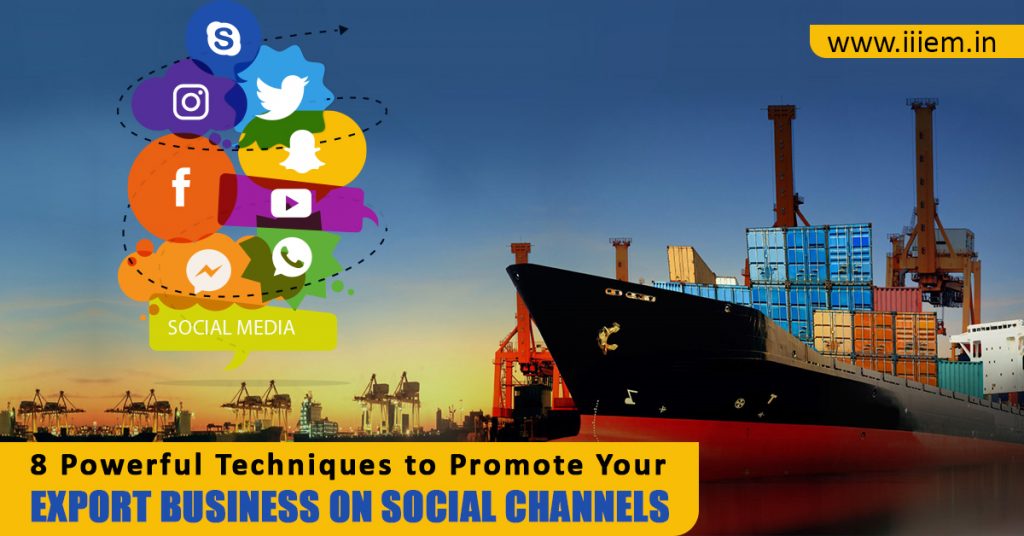 In just some recent years, social media channels have progressed from a mere idea to a must-consider for international marketers. Of all the latest marketing mediums, social has taken the lead. With old marketing tactics, messages were sent to possible customers, and conversation happened one way.
Whereas on social channels, both customers and businesses can make a two-way interaction. Both participants can communicate with each other through asking questions, re-posting contents and working on forging bonds. Building a social media marketing plan can be challenging, so below are eight techniques to effectively promote your export business on social channels.
Choosing the Right Platform
There are no less social media websites on which you can share your content with a few clicks. The number only seems to be growing with each passing day. Sharing on the right platform is vital to your marketing success.
When deciding which channels to employ, you must first consider your business and customers. It's imperative that you create a business account on platforms that your potential customer base uses so that they can connect with you. Make deep analysis to determine the most used sites and with a strong plan, conquer them too.
You should also examine which social sites best fit your requirements. For example, to promote a video, YouTube is an apparent choice.
      2. Creating a Calendar
Rushing to create content at the eleventh hour can lead to low-quality output which in turn leads to repeated posts or an unwanted pause in your boosting presence. Creating content-posting calendars can help evade such mistakes. They also help you give you space to form goals and strategies and proactively track your progress in line with it.
To design a content calendar, you can use a regular calendar format for each channel and plan out your posts well in advance with having included hashtags, appropriate links, images, and other such content.
     3. Encouraging Engagement
Social media, of course, should create some substantial engagement by being social and interactive. To fully leverage and exploit social capability, do activities that instigate engagement.
Post content that your audience wants to read about import and export procedure and make them ask questions to your posts. Doing ample research on your target audience can help you understand what are they looking for.
    4. Don't End Up Over-Promoting
One common trap that people often fall into is approaching social channels too much like advertising medium. You sure don't want to promote your business in every post unsubtly. You must focus on creating content that your followers will enjoy reading.
Promoting is okay but should occur once in a while. An ideal marketer goes by the one-advert-in-seven-posts rule. Meaning, for every one promotional post, the rest six should be informative content. In these rest posts, you can share a variety of articles, comment on current events or put up a quiz. You don't totally have to keep from promoting your brand in these rest posts but just be mindful of not selling too hard.
    5. Sharing Videos
Visual content is known to work quite well on social channels. Video content, primarily, is excellent for attracting people's attention as well as communicating your business personality to your customers.
Visual content is what people notice the most while scrolling their social feeds. Research says they're more prone to watch it and connect with it. It gives you a chance to express more than you could in a normal post and that too without occupying much room. Design thought-provoking, narrative-driven video to get the best response.
    6. Addressing Problems Promptly
Occasionally you may happen to encounter an individual who is not happy with your post or what you offer and has something bad to say about your business.
In such a scenario, you must carefully observe remarks of your brand, so you can respond to issues before they hatch. If you smell a problem, connect with that person by apologising if needed and offering resolutions through a direct message. This way, people who view your post knows you were warm.
    7. Building a Community
Rather than trying to attract too many followers, concentrate on discovering customers who are genuinely interested, faithful and engaged. These are more inclined to re-post your post, like your posts and ultimately become customers again.
When building a community for your brand, plan activities where people can engage with each other and end up promoting your content. You can even try connecting with influential users and seek their help to review a product or mention you in their post.
    8. Providing Value
Possibly the most remarkable thing you can do on social channels is providing value to your customers. Post content that your audience will benefit from using it. For example, sharing tips or secrets to doing something, posting text or videos that entertain them or anything else that is useful in some way.
This feature of all social channels is what draws the true customers, makes them want to follow you and spread your word. Master this technique, and you'll be near to close to a successful marketing campaign.
With more than 3 billion users, social channels are a goldmine of customers.
To plan a powerful social media campaign, and connect with some of these people to grow your customer base, write to us at info.iiiem(at)gmail.com