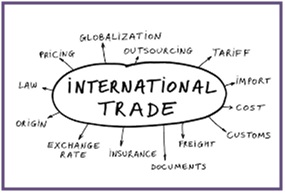 Shall demonetization affect Export Import business in the current situation in India?
How long will the Effect last?
Growth of any Country depends up on its Export Import Trade. Indeed it is very crucial for India too. Especially after demonetization the Exports have slowed down due to currency crunch. True to its core that instability in the Exports leads to inflation and that in turn leads to an uncertainty of internal purchasing power and unstable economy.
8th November 2016 marked in history when India announced demonetization of its large currencies India's import and export business is hugely affected by the recent and shocking announcement of demonetization. The Foreign Trade industry is suffering in the aftershocks and shall continue to suffer for a further period, though for limited time.
However the influx of money from the black market shall certainly improve to be beneficial in the long run for Export Import Trade. The fact lies at the moment that plunge in money supply with overflowing bank deposits ring an alarm in consumption demands, means decline in imports.
The Indian Government has always paid incentives and promoted Export with easy policies. Nonetheless the Exports market is taking a toll at the moment. Make in India projects need easy flow of currency for manufacturing, hence the Import and Export both trade have got their bottlenecks. This has changed the algorithm in today's economical situation. However stable exchange rate is an idle situation as Volatility vitiates the Trade for India.
For a few months India's Exports may be slow but consider that for any acceleration, the vehicle must be slow to begin with. Am sure India shall come out with higher GDP and influx of foreign exchange with prosperous Exports, in sooner times than thought of.
In Modi's "Swachh Bharat" mission, Exports is the best answer to bring in Foreign Exchange and make India prosper with "clean" business, a scene without black or unaccounted money
Wishing and hoping our Export Import to get back on its business toes soon to support the Indian economy.
Hail India