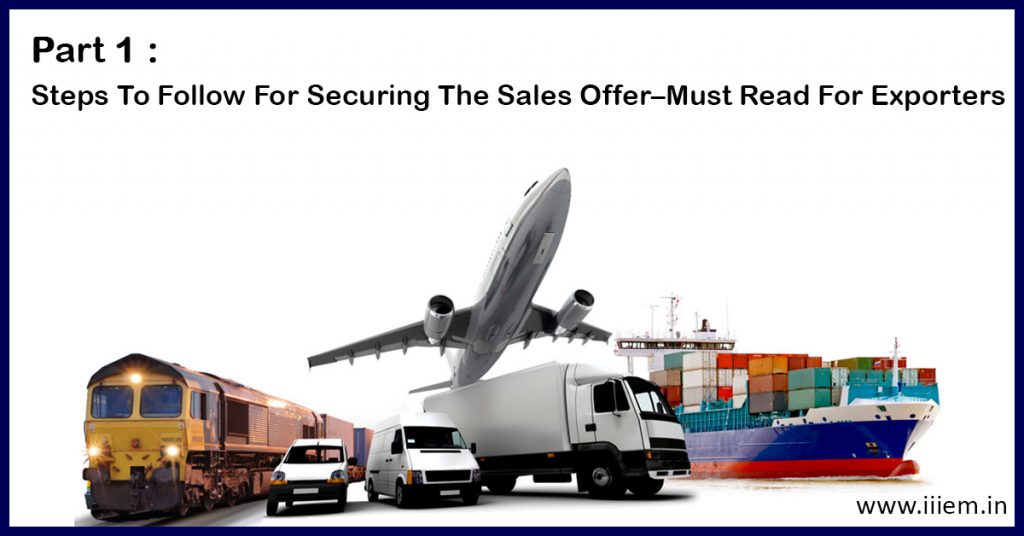 A sale oftentimes begins when a business receives an offer from a potential buyer. It is through a quotation or a proforma invoice that most of the exporters reply with. Sadly, businesses too often answer to these requests without much consideration, which at times result in difficulties down the road, especially if this offer holds a potential sale.
Successful exporters have solid internal processes in place to assure they answer in a way that will lead to a successful export sale.
Using a Proforma Invoice
A proforma invoice touches several divisions within your export business. It establishes the stage for many steps of the export sales process by providing business information, product information, costing, payment terms, and shipment and delivery indications. It also specifies the obligations of the importer, exporter, forwarder, carrier, and bank. Also, the importer often uses the sales quotation or proforma invoice to secure foreign exchange and an importing license.
In export business, a clear interaction is always an issue, but also the optimal solution. A proforma invoice should cover plain and clear information about the sales details.
Securing the Sales Offer
Before you answer to sales request, following the below steps can help assure a successful consequence:
Step 1
Think and understand the specifications of the request to apprehend and give exactly what is asked and needed.
Step 2
Carry out due diligence to know whether the request has come from a legitimate company or any of the blocked parties lists, and make sure your potential customer is financially sound and capable of buying your products.
Step 3
Thank your potential customer for asking the RFQ or PFI.
Step 4
Respond with a positive report on your business including the best quality of your products and services, and your unwavering loyalty as a favored supplier to your current customers.
Step 5
If you require some time to produce technical information of products from your production, engineering, or design team, then reply that the RFQ or PFI will be forwarded soon based on the information from your technical staff.
Step 6
Ask the importer about the type and quantity of products to be shipped, their estimated value, and relevant specifications like dimensions, weight, and related details.
Step 7
Avoid using idioms or jargon talk because someone outside your industry does not easily understand it. Bear in mind that mediators like carriers, freight forwarders, and bankers are unfamiliar with jargon usage and might not understand or misunderstand what you are talking about.
Step 8
Provide adequate information and specifications in your quotation to help all parties involved in using your quotation for their share of the entire export transaction and process. This relates to the purchasing team of your importer, the technical team, forwarder, banker, government officials (EXIM customs officers, etc.) and carrier staff.
Don't be an unwitting exporter! Check out our Export Import Management Program that will help you build an export strategy to maximize your profits and deter common pitfalls. You can register your interest at info.iiiem(at)gmail.com
Step 9
Design your quotation in such a way that you place your business in the most favorable negotiating position possible.
Step 10
Give information that encourages your importer to open a Letter of Credit using Incoterms 2010 for your benefit. Provide enough lead times and enough product or service details.
Step 11
State any time restrictions clearly. You may like to use a formal statement such as: "The cost and conditions of this offer stay true for 30 days from the date of proposal."
Step 12
List all extra charges included in the quotation separately from the price of the products, for, e.g., handling fees, ocean packaging, consular fees, ocean/air freight, inland freight, insurance, document preparation, fuel surcharge, and other charges.
Step 13
Personally sign and add your relevant title to validate quotation.
Step 14
First, determine whether an original copy of quotation is needed and then choose to email or you can also send it by airmail.