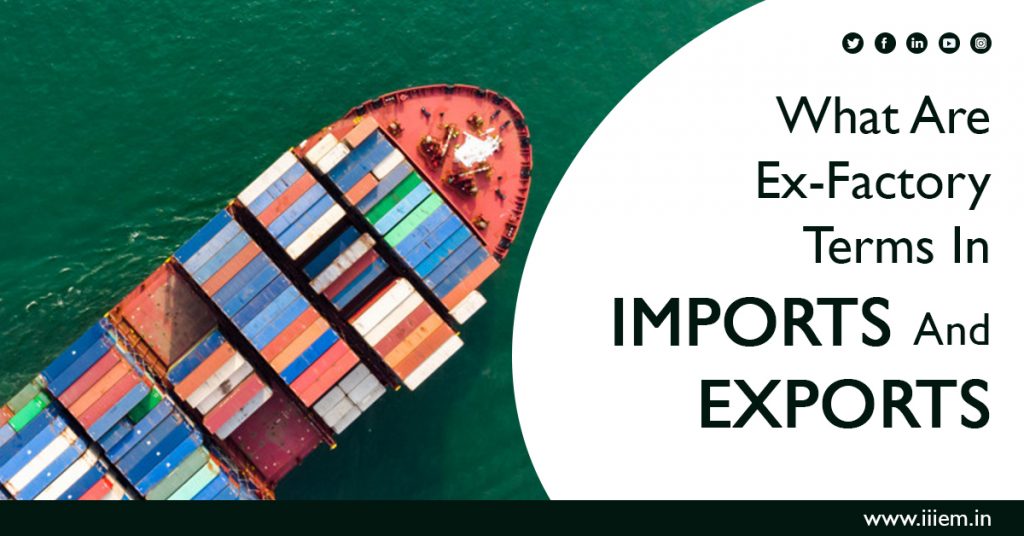 Ex-works terms or ex-factory terms are commonly been used in the business of import and export.
Understanding these terms is important to undertake any import/export business from any country successfully. Ex-factory price means, the selling cost of goods from Seller's factory.
If a buyer agrees to ex-works terms, he/she would be liable to undertake all the shipping costs from the buyer's place of business until it reaches his/ her point of delivery. The entire work of loading the goods onto the truck from the seller's warehouse, forwarding them to the vessels, planes or trains, taking care of all the customs procedures, unloading them at the destination, and finally delivering them at the respective location is been performed under the guidance of the buyer only. Here the buyer appoints a shipping and freight forwarding company to collect goods from the seller's factory to the buyers place including insurance of goods. It is one of the 11 current Incoterms.
What Are Ex-factory Terms?
Ex-works terms, also known as ex-factory terms are common international commercial terms i.e. Inco (International commercial) terms for agreement between that of the seller and the buyer.

It is a contract option, which is particularly good for the seller and not so good for the buyer.

As per the agreement, the seller agrees to provide the goods for the pickup at his/her own place of business. The seller just needs to provide the goods for the business and does not perform any other task for the export.

As per the ex-factory terms, it is the buyer who would be incurring the transportation cost and even be responsible for any kind of damage in the goods during transportation.

All the responsibilities of the shipment and the costs incurred in it fall on the buyer.
These terms divide the responsibilities between the shipper or supplier and the consignee or the buyer. As the buyer has to bear all the cost and work of shipment, the seller only has to ensure that the goods are being available at the premises for dispatch.
Advantages of using Ex-factory terms – 
Buyer can get a clear picture of all the costs incurred in the import-export of the goods when agreeing to the ex works terms.

He can eliminate any chances of the seller adding extra cost or inflating the cost in disguise of customs etc.

He can save money by getting his/her in house shipping team of a third party shipping company to perform the task of transporting the goods from the seller's place of business to the buyer's location.
Disadvantages of using Ex-factory terms –
Biggest disadvantage is the complication that takes place that the customs clearance place. The seller needs to provide clear information of the goods for clearance and if the information stands incorrect, the buyer might have to pay extra for complete clearance.