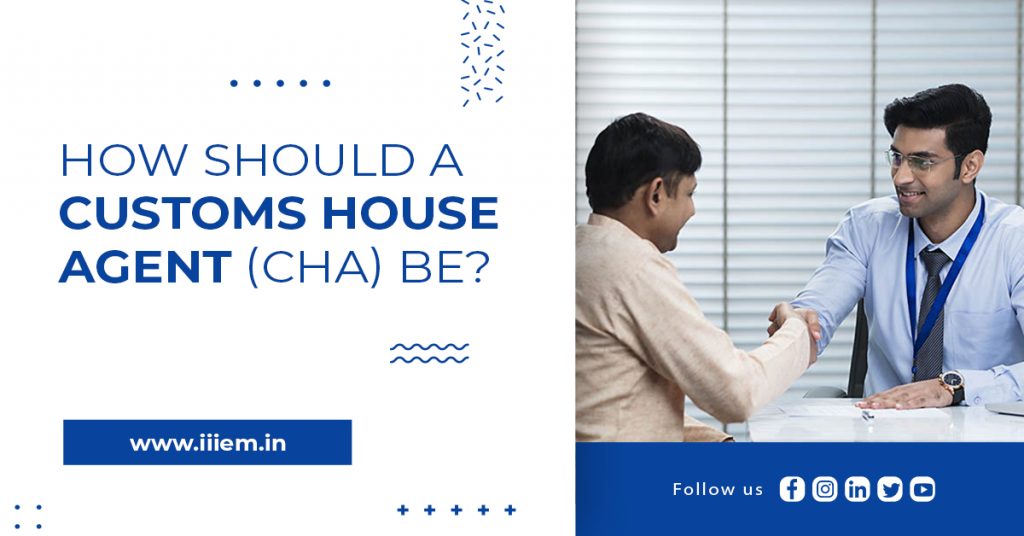 One has the product, website, buyer and all that needs to do business ready. But many a times, one gets stuck with how and who can be the CHA for my business.
Well, a CHA – Customs House Agent – is responsible to oversee business transactions related to the import and export of goods at the customs station. They are the facilitators for your export and import business. They coordinate with the exporter or importer the Customs Officer at the port or ICD.
A CHA gets your cargo cleared through the Customs and also helps you in certain documentations. They are engaged or appointed for their services.
Below is the basic important checklist you shall use to appoint a CHA for your Import or Export Business:
• Must have a license and also a membership with the respective association
• Experience in your kind of product
• What type of Clients or businesses have they handled so far? Their client list should be checked.
• Their updated knowledge on Customs Tariff and processes.
• Their updated knowledge on the laws of Customs, specially for your product or industry.
• What are the other services like the taxes to be paid, documentations required etc they can help you with.
• Check how prompt they are in their services.
• If this person is Customers Broker then who is he affiliated with? A broker needs to be affiliated with a licensed CHA.
• Last but not the least, his value addition to your current and future business.
Always ask for a formal invoice for the services and payment to be made to the CHA appointed. The exporter or Importer also must check the services and charges a CHA may quote you with a few other CHAs. This will help you choose the best for the services and price.
To appoint a CHA is NOT a must. it is not necessary to hire an agent to go through the customs procedures. However, usually, several importers and exporters hire a customs house agent to deal with the official part of getting a clearance. This way the exporter or importer will save a lot of time to focus on their business. The CHAs are believed to have contacts and connections with the Customs Officers at the Sea Port, Air Port or at ICDs. And also, the CHAs have a good understanding of the procedures and laws at the Customs checkpoints.
Where to look for a CHA?
 Customs official website – cbic.gov.in
 Apeda website for foodproducts – apeda.gov.in
 Local B2C websites like the JustDial etc.
 Local associations of CHA like the Customs House agent Assoctioanl in Chennai, Hyderabad, Mumbai, Gujarat, Mundra port, JNPT port etc.
Hope you have had a good experience exporting or importing with a CHA.