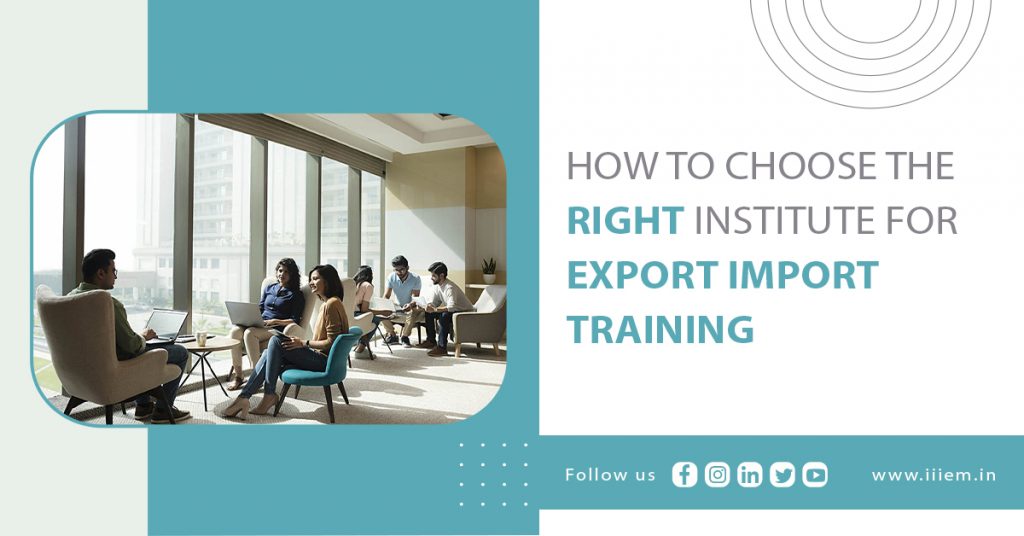 These days there are a lot of institutions mushrooming around in all cities in the name of being the "best". One should look for the following in order to take proper education & training from an institution:
The Faculty – the mentors, guides, or the teachers should be hands-on, teach through passion and interest for the value of spreading knowledge, not for gainful employment. The method of teaching should be based on experiences and practices. One can not teach export-import only in theory. Here there are several aspects that come only through years of experience.

Lifetime support. – The institution should be encouraging export-import business, not just dissemination of information. So while one starts his export-import business, one may have several practical queries and hurdles which need to be solved by experts from the field only. This lifetime support meaning hand-holding students to lead them to be successful businessmen. This consultation, mentoring, support needs to be online and offline too. There are many of us who cannot much express in writing, so the offline, in person, or on the telephone can be of great support.

The institution must vouch for the permanence of information like organize guided & mentored international Trade Visits, help decide domestic memberships, guide through Export Promotion Councils, regularly update on trade policy and Government benefits.

Choose an Institute which is spread across – at least in the country. Hence if there is anyone seeking guidance from Southern India need not be dragged with information which is common for all – Northeastern or west Indian.

An exporter itself – Choose an institute which is an exporter. Please be clear, not a shipping and logistics company, or an International agent or broker, or an author or a consultant. There is a difference in being actively into export & import business and all the others. Also, the institution should not only have one product to export, it should be a part of at least a few industries for its export business and manufacturing.

The Institution can also extend consultation to you for your export business

The institution, if has a Mobile App, it would be an additional support

Seek an institute which has the below topics covered and updated with information from time to time:

Registrations and processes
Product Selection – Specially with low investment
Website – Thorough guidance on Online marketing of the Business
Supplier short listing and finalizing
Cost and Pricing of the product
Statistical analysis of the data for the market trend in the world
Short listing Countries
Understanding the general certification norms of each country
Finalizing Country
Preparing for the buyers
How to talk with the buyers
Negotiate the Payment terms
Which is the best-suited Incoterms
Finalize the order
Documentation from IEC to Claiming RoDTEP
Receiving payments
Avoiding Frauds
Securing Foreign Exchange

This is a thorough institution. Choose the one which MAKES YOU DO – not the one which does it all on your behalf.
Try to get Value For Money through maximum of the above points towards the time and fees that you invest.
Knowledge makes you Powerful and continuation upgraded knowledge makes you a winner!