.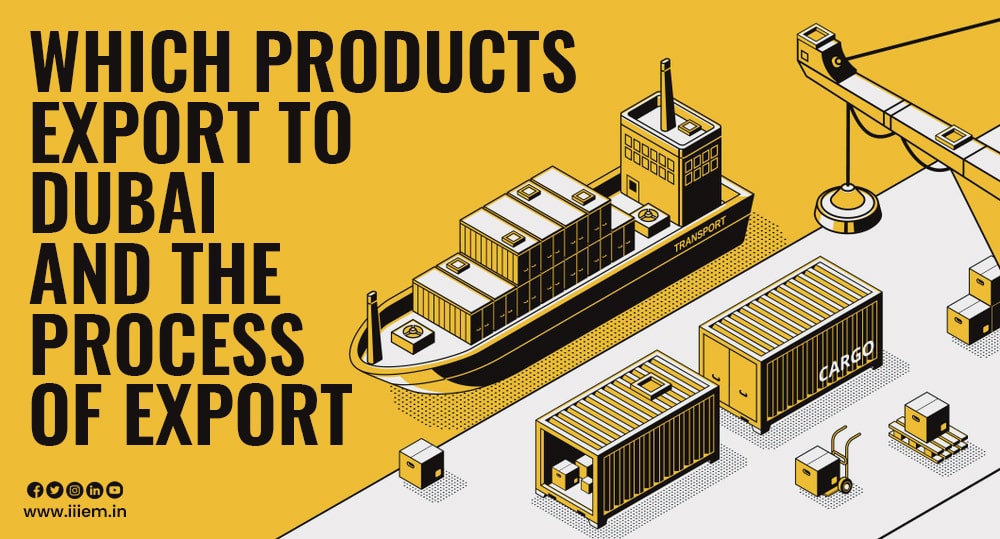 This blog is especially for those who wish to export to Dubai and expand the existing business. In this blog, we would be explaining all the important requirements and processes that one would need for export to Dubai. Dubai counts almost 70 percent of the total import of the country. It is ranked as the 25th largest country in terms of export.
The United Arab Emirates and India share a delightful and favorable relation when it comes to trading. It is forecasted that there would be a trade of more than 120 billion dollars by 2025. One of the significant reasons the relations are good is that Dubai is quite liberal in religious standards.
Let us start with what product the city imports.
Mineral oils, mineral fuels, and  its distillation of the products
Iron and Steel
Coal, wax
Precious or semi-precious stones, metals, pearls, gems
Machinery and mechanical appliances
Nuclear reactors
Electrical machinery, equipment, and parts
Vehicles
Spacecraft, Aircraft and its parts
Plastic products
Photographic, Optical, Cinematographic equipment
Cereals, nuts, dry fruits, and other edible foods
Clothes- Apparels and other textile products
Ships and boats
Organic chemicals
India is one of the largest and most significant trading partners in Dubai. Each country has its own set of rules and regulations, and so does the United Arab Emirates.
Below are the Import regulations for export to Dubai
Halal certificate is a must for the import of food products.
The maximum import duty in Dubai is – 4 % of the total CIF's value.
Food, pharma products, and other essential items should be exempt from tax payment.
Alcohol and tobacco are taxed at 25- 50 %
Agricultural products including poultry and beef must have medical clearance
There is no import duty on goods imported from the Cooperation Council for the Arab States of the Gulf (CCASG), Qatar, Oman, Saudi Arabia, and Kuwait.
Documents required for export to Dubai
Sea waybill or Airway bill
Contract of purchase and sales Pro- forma invoice
Certificate of origin
Purchase and sales contract between importer and exporter
Packing list of prospective exporters and their goods
Details of the manufacturer, manufacturing date, expiry date
How to get import order from Dubai
Browse social media sites
Use the internet for marketing your product
Visit the country and its local markets
Contact the international as well as the local Chamber of Commerce
Participate in trade fairs and exhibitions
Contact the Indian embassy of that country/city
There are non-tariff barriers in Dubai when a specific demand for trade and investment comes through setting strict rules on sponsors, agents, and distributors.
You need to create a good website for your import-export business company to show to your prospective customer. It would give a clear idea about your products and the production capacity along with other details.