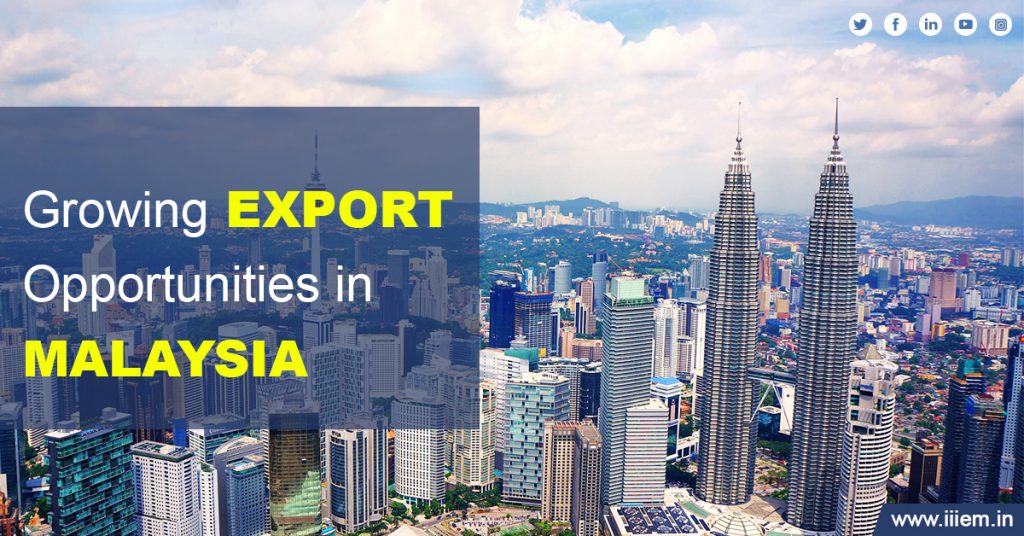 Since 1991, the trade relations between India and Malaysia have expanded hugely. Currently, India is the largest trading partner of Malaysia. The strong economic and trade ties between the two nations built over a period of time offers immense opportunities to the Indian exporters for export and expansion of trade in Malaysia.
The export basket of India for Malaysia is large and is diversified consisting of sugar, meat and its preparations, wheat, rice, fish, RMG cotton, fabrics, primary and semi- finished iron, vegetables and fruits, ships, boats, oil, metal and electronic manufacturers, boilers, nuclear reactors, cotton yard, instruments and machineries etc..
Indian companies have invested in Malaysia in sectors such as power, railways, palm oil refining, civil construction, information technology, manufacturing industrial goods, bio- technology, higher education, and training. Major ports of Malaysia are – Alor Setar, Hutan Melingtang, Danjindawai, Bunan Gega, Daro, Dungun (Kuala Dungun), Endau. Export process from India to Malaysia and other countries is almost same worldwide. In a nut- shell below is a short description on how to export from India –
Establish an organization –
It can be either – sole Proprietary concern/ Company or a Partnership firm
Open a Bank account –
Current account needs to be opened with a Bank that has a foreign exchange trade license
Obtain IEC (Import- Export code) –
It is mandatory to obtain a 10-digit IE code number for export/import from India as per Foreign trade policy.
Obtain PAN (Permanent account number) –
It is a compulsory document, which needs to be obtained by every importer and exporter.
Registration – Membership certificate –
This certificate is been needed for availing export/ import authorization or benefit or concession under FTP 2015-20.
Selection of product and market –
After a detailed study, one needs to select the product and the market.
Sampling –
Providing customized sample as per the need of the Foreign buyer would help in getting orders
Buyer search and negotiation –
It is very important to search a buyer who is reliable and trust- worthy. Negotiation is a major concern and so it should be well clarified from before only.
Price and costing –
Proper analysis should be done while quoting a price. Custom duty, freight, insurance etc should be considered before quoting the price.
Malaysia is India's second most important trading partner amongst the ASEAN (Association of South East Asian Nations ) countries and it is also India's gateway to ASEAN and China. India is the largest trading partner for Malaysia in South Asia. There are many types of goods exported from India to Malaysia.
The total value of export from India to Malaysia is 5,221.66 USD million. More than 96 products are been exported from India to Malaysia. Though balance of trade has favored Malaysia, primarily because India imports expensive commodities from the former like palm oil and petroleum on a large scale the India Malaysia trade is benefiting both nations.