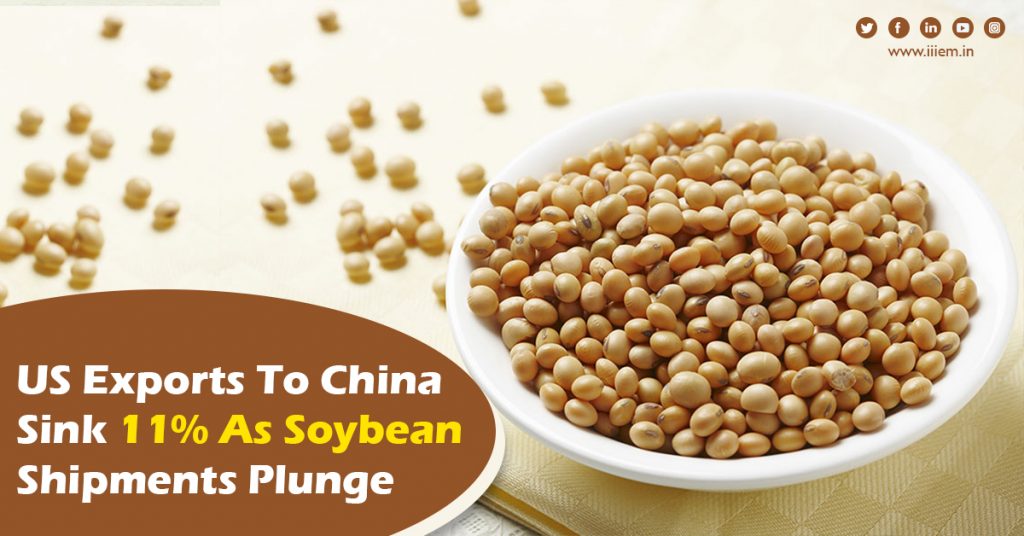 In the year 2018, the only crucial issue that went through global economies was trade war between the United States and China.
Soybean shipments plummeted amid the escalating trade tensions between the world's two largest economies, which resulted into 11.3 percent decrease in Soybean exports. USDA's Federal Grain Inspection Service reveals that through the first seven weeks of the 2018/19 marketing year, 7.4 million bushels of new-crop U.S. soybeans have been shipped to China, down 97 percent from prior-year levels. Both the trading countries are involved into trade war as each country continues to dispute tariffs that are placed on commodities traded amongst them.
Soybean, which comes under HS Code 1201, is one of the largest traded commodities between both the countries. As per research, China purchases more than 60% of US soybean. Through the first seven weeks of the previous marketing year, the U.S. shipped 239 million bushels of soybeans to China, and during that same period in the 2016/17 marketing year the U.S. shipped 211 million bushels.
To learn the export import business from basics with step by step procedure and all the documentation, join any institution which provides good knowledge from industry experts.
According to US trade with China statistics, US soybean exports to China have plummeted in 2018, amid the escalating trade tensions between the world's two largest economies.
Top 5 Import Countries of US Soybeans –
China with almost 60 percent
Mexico with almost 7.4 percent
Japan with almost 4.5 percent
Indonesia with almost 4.3 percent
Netherlands with almost 3.6 percent
US export soybeans to the world amounted to USD 13935 million During January and October 2018. US soybean exports to China accounted for USD 12253 million in 2017, which declined to USD 97 million in 2018 (Jan-Oct 2018) due to ongoing trade between countries on higher tariffs. Shipments of soybeans to China have fallen by 98 percent along the Mississippi River, 95 percent out of the Columbia River and by 91 percent from the Puget Sound.
Alternatives China would look for if the trade war continues in 2019 –
Reduce soybean meal intake in livestock rations and use more of corn in meals.
Purchase canola, rapeseed, palm and sunflower meals, which are more alternative protein sources
Import more soybeans from Brazil, Argentina and other countries.
Incentivize the local farmers to increase soybean production
Invest in countries like Brazil, Kazakhstan and Ukraine to increase soybean production & shipping.
China crushes soybeans to produce soy meal, which is been fed to its massive livestock herds.
The United States Soybean Export Council (USSEC) is a dynamic partnership of key stakeholders, serving as a producer of allied agri- businesses, commodity shippers, soybean producers, and agricultural organizations.
In the first month of the year, the country recorded the highest export value of soybeans and then the figures started declining due to trade war between the US and China. As we know about 60% of the country's total soybean exports shipped to China, the goal went to trade dispute, the figures went down sharply as China started coming from the US from December only.